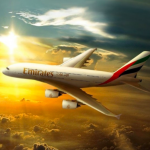 Industry News: 1st June 2020
Emirates Airline President Tim Clark said on Monday it could take the airline four years to rebuild its network that has been decimated by the coronavirus pandemic.
He was speaking during the opening session of three days of webinars and conferences organised by Arabian Travel Market, which went virtual after pandemic restrictions in Dubai.
"I think probably by the year 2022/23, 2023/24 we will see things coming back to some degree of normality and Emirates will be operating its network as it was and hopefully as successfully as it was," he said in the webcast interview.
His interview came less than 24 hours after his airline announced it plans to cut jobs due to the COVID-19 pandemic, but had not given numbers.
Emirates issued a statement yesterday saying: "We have looked at all of the possible scenarios in order to maintain our business operations, but have come to the conclusion that unfortunately we have to say goodbye to some of the wonderful people who have worked for us."
Emirates employs more than 100,000 people and operates a fleet of 270 wide-body aircraft. In March it confirmed salaries would be cut between 25 and 50 per cent after the fleet was grounded.
"The current pandemic has impacted many industries around the world," said Emirates in its release.
Emirates had already said on May 10 that it would take at least 18 months for travel demand to return to "a semblance of normalcy", even after reporting windfall profits before the pandemic.
The carrier had suspended flights on March 22 before resuming certain services two weeks later.
Last week, it began operating scheduled, but partial, services to a number of airports, mostly European
The International Air Transport Association (IATA) forecast in April that air traffic in the Middle East and North Africa (Mena) will fall by more than half this year.