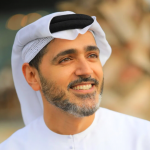 Industry News 29th May, 2020
This week HE Issam Kazim, CEO of Dubai Corporation for Tourism and Commerce, has confirmed his attendance at a conference considering the future of travel and tourism in the Middle East.
The event – part of Arabian Travel Market's three-days of webinars and conferences – will discuss sustainable investment measures for the region's travel & tourism sector alongside strategies to restore travellers' confidence and move forward post-pandemic.
He will talk about his vision for Dubai's success alongside leaders from across the region:
Panel Discussion: Initiatives to revive the travel and tourism industry and secure sustainable investment in the region?
Moderator: Rajan Datar, Presenter and Broadcaster BBC
Speakers:
HE Marwan Bin Jassim Al Sarkal, Executive Chairman Sharjah Investment and Development Authority
His Excellency Khalid Jasim Al Midfa, Chairman, Sharjah Commerce and Tourism Development Authority (SCTDA)
HE Saleh Al Gezeiry, Director General for Ajman Tourism
Mr. Majed M. Alghanim Tourism & Quality of Life Managing Director, Ministry of Investment, Saudi Arabia
Mr. Nicolas Mayer, PWC Industry Leader Hospitality and Tourism EMEA & Managing Partner Global Center of Excellence Tourism & Hospitality
This is one of three sessions on the day and you can be part of the event with free registration.
Restructuring to Attract Sustainable Investment and Customers in the New World Order.
Register HERE
READ MORE ABOUT OUR CONFERENCE HERE
READ MORE ABOUT Arabian Travel Market's Virtual Programme 1 – 3 June , 2020 HERE