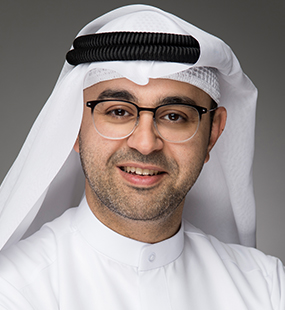 His Excellency Khalid Jasim Al Midfa brings over 15 years of dynamic professional experience in various commercial, tourism and economic fields in Sharjah.
Under his leadership, the Sharjah Commerce and Tourism Authority (SCTDA) has achieved many successes at both international and local levels, becoming a major cornerstone of the emirate's tourism development efforts. Al Midfa has taken the emirate's events and forums to even higher standards. Further cementing his commitment to taking Sharjah's tourism success to new heights, Al Midfa continues to play key a role in the execution of the new tourism strategy that aims to attract 10 million visitors by 2021; including SCTDA's adoption of four strategic pillars.
Beside his responsibilities as the Chairman of SCTDA, Al Midfa is also a member of the Sharjah Executive Council, the Chairman of the Higher Committee of National Day Celebrations in Sharjah and the Vice Chairman of the Board of Directors for the Sharjah International Marine Club. Prior to taking on the role of SCTDA Chairman, Al Midfa served in a senior administrative role at the Sharjah Airport Free Zone.