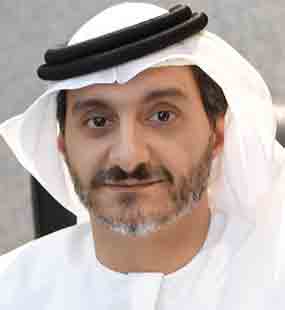 His Excellency Saleh Mohamed Al Geziry is Director General of Ajman Tourism Development Department (ATDD) in Ajman, UAE.
Mr Al Geziry, a seasoned marketing professional who possesses a wealth of global tourism experience, is widely- known in the UAE tourism industry for his exceptional leadership skills, as well as his unique ability to identify and maximize growth opportunities.
Mr Al Geziry, who was announced to be ATDD's Director General in May 2017, is responsible for strategically strengthening Ajman's economy through attracting tourists and inward investment into the emirate while delivering Ajman's tourism vision for 2021.
Prior to joining ATDD, Mr Al Geziry held executive leadership positions, with increasing responsibility, at Meraas, a Dubai-based holding company whose destinations includes City Walk, The Beach, Boxpark and Blue waters, a man-made mixed-use island off the coast of Jumeirah Beach Residence, among others. In his capacities as Director of Hospitality and Vice President of Retail Marketing, Promotions and Recreations, Mr Al Geziry led several world-class projects and was responsible for overseeing the expansion of the company's portfolio in the hospitality and retail sector.
Early in his career, Mr Al Geziry spent more than a decade marketing Dubai's tourism industry as part of his role as Director of Overseas Promotions and Inward Missions at The Department of Tourism and Commerce Marketing (DTCM), where he developed and implemented successful tourism initiatives that helped to position Dubai as a global business and leisure destination.
During his tenure at DTCM, Mr Al Geziry led high-profile international delegations and organized more than 100 exhibitions and road shows across diverse geographies. He also managed a wide variety of marketing campaigns, including Kids Go Free, a summer promotion that encouraged the growth of family tourism, while overseeing the activities of DTCM's overseas offices, and serving as a spokesperson for the establishment.
Mr Al Geziry is a winner of the Dubai Government Excellence Programme Award and was a member of the International Promotions Committee for the National Council of Tourism and Antiquities.
He holds a BBA in Marketing from the American University in Dubai and an Executive Diploma in Public Administration from the Lee Kuan Yew School of Public Policy, Republic of Singapore.