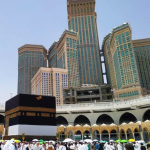 Industry News: 26th May 2020
Saudi Arabia will begin easing its coronavirus curfew from Thursday, it has been announced.
Health Minister Tawfiq Al Rabiah said the easing of restrictions will be undertaken in phases and will depend on how the spread of the virus pans out this week.
The first phase will begin with expanding capacity to serve "critical patients" and the second will include intensifying Covid-19 tests and early detection.
Speaking a a press conference on Monday, the health minister said the Saudi people had displayed a "high amount of responsibility in practising social distancing."
"After five months since this pandemic started, where the global health systems faced great difficulties in dealing with it, our society has become today more aware of this virus and implementing the measures of the social distancing, as it is a new experience for all of us," he said in remarks quoted by the Saudi Press Agency.
Restrictions in place due to coronavirus, including bans on domestic travel, holding prayers in mosques, and workplace attendance in both government and private sector will be lifted, starting May 31, the statement added.
The Kingdom will reopen all mosques outside Mecca from May 31 until June 20 in one of a number of measures announced by the SPA.
From June 21, the Kingdom expects to lift the lockdown entirely and return to normal life, according to SPA.
Al Rabiah said that people should continue taking precautionary measures while leaving their homes by using face masks and hand gloves.
The Health Ministry recorded nine new deaths and 2,235 new cases of coronavirus in the Kingdom on Monday.
The new deaths have increased the Covid-19-related toll in Saudi Arabia to 399 and the total number of confirmed cases to 74,795.
The number of recoveries has risen to 2,148, taking the total number of recovered cases to 45,668.
The Covid-19 pandemic has severely damaged the Kingdom's plan to boost its tourism income and create new jobs. In October 2019, the Kingdom of Saudi Arabia revealed its 2030 plan aiming for 10 per cent of GDP to come from tourism within 10 years, up from 3 per cent, building on its enormous annual religious pilgrimage visitors. The Kingdom also set a target of international and domestic visits of 100 million a year by 2030, attracting significant foreign and domestic investment and creating a million jobs.
***

***