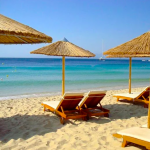 Industry News: 27th May 2020
Germany is planning to lift a travel warning for its 26 fellow EU countries plus Britain, Iceland, Norway, Switzerland and Liechtenstein from June 15 providing infection rates remain under control, according to a government source in Berlin speaking to Reuters
Under the new proposal, the general travel warning that has been in place since March 17 would be replaced by individual advice tailored to the spread of the pandemic in each country, potentially allowing Germans to holiday abroad this summer.
In another positive move, people living in Norway, Sweden, Finland and Germany can now visit partners in Denmark by signing a simple declaration rather than having to provide photos, phone records and other proof of a relationship, the Danish justice minister, Nick Hækkerup, said.
The premiers of Germany's 16 states are due to discuss with the chancellor, Angela Merkel, on Wednesday how to further relax restrictions aimed at containing Covid-19 after its initial relaxation, two weeks ago, showed no significant impact on infections.
More German federal states have announced unilateral steps to loosen restrictions, creating a patchwork of wildly varying rules on physical distancing within Germany and moving control away from Chancellor Merkel.

Winfried Kretschmann, the premier of Baden-Württemberg, said on Tuesday his state would allow seated public events with up to 100 people from 1 June. Other states
made similar announcements, with the mayor of Hamburg saying the the city state would soon reopen cinemas, open-air swimming pools and gyms.

According to The Guardian in the UK, there was no official confirmation of a report, citing a draft document, in the Bild tabloid that Merkel, under pressure from state premiers, had already agreed to ease some remaining rules – including on the numbers of visitors allowed in people's homes – by June 29 instead of July 5, as originally planned.
***

***