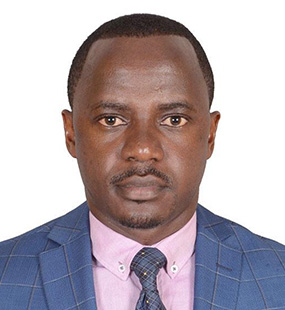 Zephanie Niyonkuru is the Deputy Chief Executive Officer of the Rwanda Development Board (RDB), a Government of Rwanda entity tasked to transform Rwanda into a global hub for business and innovation by fostering an attractive investment environment, enabling regional and global exports, as well as creating jobs.
Mr. Niyonkuru holds a Master's degree in Finance (Economic Policy) from the University of London, School of Oriental of African Studies (SOAS). He obtained a diploma in private sector development from the Swedish Institute of Public administration and completed training in management of economic development zones in developing countries at the Jiangxi College of Foreign Studies in China. He also holds a CFA level 1 certificate and is a member of the CFA Institute.
Prior to his appointment as Deputy CEO of RDB, Mr. Niyonkuru had a worked in the private and public sector and led projects for development partners.
Mr. Niyonkuru was the lead Analyst and Operations Manager at Offshore Technology Focus Group (OTF) for mining (extractive industry), mining services, and dairy products. later on he was promoted to lead all finance, logistic, IT and HR operations including dedicating part of his time supporting research activities.
He had initially worked for RDB as a Strategy expert and Acting Head of the Planning Division. He provided technical support to the CEO and heads of departments on investments, exports and job creation strategic matters. He subsequently spearheaded the establishment of a legal and regulatory framework for Special Economic Zones in Rwanda. He also provided technical support for the establishment of policy framework for the same schemes (SEZs & EPZs) to the East Africa Community Secretariat and later on led corporate strategic planning, monitoring and evaluation activities.
After his time at RDB, he became a ESPartners Associate where he carried out consultancies related to strategy, entrepreneurship, and export development among other things for public and private sector clients across East and West Africa. He led quantitative modelling (financial and economic models) and spearheaded main consultations with stakeholders.
Mr. Niyonkuru carried out research related to the status of inspection and competition across food and drugs in Rwanda to inform the establishment of the Rwanda FDA as part of a short term consultancy for the World Bank Group.
He designed for the Rwandan Ministry of Finance (MINECOFIN) a Monitoring and Evaluation Framework for the first generation of the National Strategy for Transformation (NST 1). He subsequently trained more than 300 employees from the public sector on how planning, M&E activities for NST1 will be carried out. He later on formulated the overall M&E matrix to track performance of different NST 1 indicators across economic, social and governance clusters.
Mr. Niyonkuru was then named Country Representative to Rwanda for the USAID East Africa Trade & Investment Hub where he oversaw all the activities of the project in Rwanda. The project facilitated companies from agro processing, footwear, home decor and fashion accessories to penetrate and/or increase their sales in the export markets with a special focus on the East Africa and the United States of America. Additionally, he supported companies in raising financing allowing them to expand their activities and meet orders from buyers in the export market.