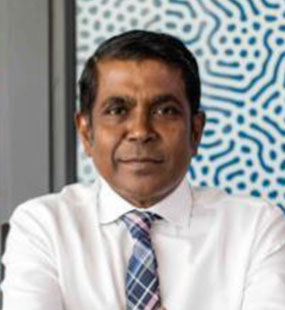 Mr. Thoyyib was appointed by the President H.E. President Ibrahim Mohamed Solih as the Managing Director of Maldives Marketing and Public Relations Corporation (MMPRC), the national tourism promotion board of Maldives, on 27th November 2018.
Having graduated from Bournemouth University U.K. in Masters in Broadcast and Film Management, he began his professional career at Television Maldives, offering a wealth of practical knowledge to the industry. He worked his way up from a television producer to the Assistant Director General of state owned tv channel.
In 2006, he was appointed as the Chief Executive Officer of Villa Television (VTV), a leading private news network. His specific expertise in diverse media, managements and public relations roles earned him the position of Chairman of Maldives Marketing and Public Relations Corporation in 2009, while serving as the Minister of State for Tourism, Arts and Culture and Finance Executive under the tenure of President Mohamed Nasheed.
Other impressive feats of Mr. Thoyyib include his service as the President of Asia-Pacific Institute for Broadcasting Development (AIDB). With his extensive set of knowledge and skills in management, Mr. Thoyyib has been capable of bringing together all key stakeholders in the mission to promote Maldives as the ultimate holiday destination. Collectively with the help of stakeholders and industry partners, his work saw Maldives welcome over 1.5 million tourists in 2019, a groundbreaking record arrival for Maldives.
He continues leading the Visit Maldives team through the COVID-19 pandemic to upkeep visibility of the brand and keep Maldives on top of the travel radar as one of the most dreamed about destinations through the recovery process.