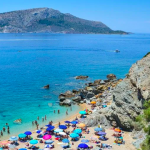 INDUSTRY NEWS: 2nd June 2020
As the number of deaths caused by the Coronavirus pandemic nears 400 thousand, and the number of those known to be infected already exceeds six million, member states of the Schengen Area and the European Union have started opening their borders for certain countries, according to schengenvisainfo.com.
While EU countries as Poland give no signs of a near reopening of the borders for non-essential travel for the rest of the block's citizens, others as Germany, Spain and Italy, plan to reopen through June. Others as Hungary and Greece, have even added non-EU and non-Schengen countries to their lists of soon-to-be eligible travellers to enter their territory.
The majority of these countries have imposed restrictions for possible travellers to their territory while highlighting that travelling through the EU at the pre-pandemic level is not possible right now. As a result, most of them have imposed either two-week quarantine for arrivals, or COVID-19 test, or both.
In particular, a large share of EU members reopening the borders has noted that quarantine will be obligatory to all, aside from those who present a certificate of negative COVID-19 test results.
Earlier in mid-April, an EU official confirmed to schengenvisainfo.com that those wishing to travel to the Schengen Area after the Member States start to gradually go back to normal might have to present a negative COVID-19 test.
"The traveller may be required to take a new test before travelling to the Schengen area, as to make sure that he/she has not been infected in the meantime," the source said while explaining that third-country nationals would have to present test results for visa applications and for entering the country.
Contacted again, regarding the recent developments, the same source noted that since the beginning of the pandemic it was clear that third-country nationals would need to present test results to enter the Schengen Area.
"Health experts have advised that we have to learn to live with the virus, in order to beat it. I don't see how the EU could reopen to third-country nationals without requiring negative test results, for as long as the virus lives among us," the source said when asked whether there was a possibility of EU reopening the borders without imposing such a requirement.
See the full story and the full list of restrictions across the European Union HERE