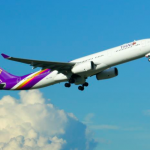 Industry News: 1st June 2020
Thai Airways has filed for bankruptcy protection and ticket refunds will take at least six months, according to industry observers.
Its fleet has been grounded since late March and there are thousands of passengers waiting for refunds of their tickets. But under Thai law bankruptcy protection, also known as Debt Rehabilitation will leave ticket holders with a long wait.
The airline begin a programme of replacing its aging 80 aircraft fleet two years ago but has been debt laden for years. It has 74 international destinations.
Thai Airways website has been updated to reveal its regional operator THAI Smile goes back into service this week, serving some domestic routes. Thailand has escaped the worst of the pandemic idetfying its first case in January – a woman from Wuhan province in China – in early January.
But despite some criticism of the government there have been just over 3,000 confirmed cases and 62 deaths. And even though some observers suspect these figures are an underestimate, the country has certainly escaped quite lightly. International arrivals from all destination were finally implemented on April 3, 2020.
In October 2019, Thai Airway's had a debt burden of 300 billion baht (about US9bn) prompting a deputy transport minister to ask 'how serious the airline's executives were in dealing with the worsening financial situation?'[46] Thai reported a net loss of 4.68 billion baht (US$147m) in the third quarter of 2019 and a 10.91 billion baht (US345mn) net loss for the first nine months of 2019.
Thai's president offered support saying: 'Such losses were normal for airlines amid fierce competition and price dumping to win customers."