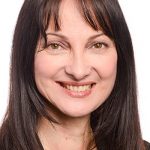 Summit News 6th June 2020
Contact tracing apps in smartphones will only help the tourism sector in Europe if all countries work together, warns Elenena Kountoura MEP.
She is one of Greece's most well-known politicians and Ms Kountoura is a guest panellist at a special virtual summit The Future of Travel & Tourism on Wednesday June 10, 2020.
Greece, faces a financial meltdown if tourism is not re-established quickly and the MEP has called for Europe-wide co-operation.
The former Greek Minister of Tourism joined the European Parliament last year and supports smart phone tracing apps to help curb the spread of the virus. She feels the app could be part of the solution but fears older people may be excluded, like the over-50s in her own country.
"In Greece, the vulnerable population, over the age of 50, constitutes the majority and does not use smartphones at a rate of 71 per cent – to be effective 60-75 per cent of people must use them," she said.
She was speaking in a debate last month at the European Parliament where she welcomed the introduction of tracing apps to warn people of potential dangerous contact.
"Areas such as tourism need practical solutions now. How will this be done when each EU state uses its own application? If these questions are not answered immediately, I am afraid that the use of contact tracking and warning applications becomes too little too late."
She admitted she was sceptical about the overall ability of smartphone apps and highlighted concerns she shared with other MEPs: "We would all like to be safe, knowing that we have an application that will inform us anonymously about potential carriers of the virus. If we take into account that the use of the applications is carried out on a voluntary basis, the serious risk of the failure of the project becomes even more obvious."
THE FUTURE OF TRAVEL & TOURISM VIRTUAL CONFERENCE June 10, 2020 DETAILS & REGISTRATION
Tourism is the major source of foreign income in her home country and she said that if contact-tracing apps are introduced by individual countries it would fail to help the tourism sector recover quickly enough.
Greece, with a population of 9m, has escaped the fate of many European countries with fewer that 200 deaths. But the government is desperate to reopen its supply of foreign income on which its economy, still damaged from the 2008 crash, relies so heavily.
Tourism generates over a quarter of Greece's gross domestic product, and employs more than 400,000 people. More importantly, 90 per cent of that tourism revenue comes from foreign visitors.
Since 2008 there has been criticism that Greece has relied too heavily on tourism – with the exception of shipping (7 per cent GDP) – and the pandemic has destroyed its biggest foreign income sector.
Greece like many countries across the world, has suffered relatively few cases of Covi-19 but remains unable to receive guest and needs an urgent solution to the pandemic.
Elenena Kountoura MEP is a panellist on the midday session of the conference Rethinking Investments for Better Preparedness Against Potential Future Catastrophes.
Moderated by Peter Greenberg (CBS News), panellists will also include Hon. Edmund Bartlett, Minister of Tourism Jamaica, whose country has also suffered relatively low Covid-19 death but has been isolated from the world during the pandemic and relies heavily on tourism income.
Other panellist include Dr. Peter Tarlow, President, Safer Tourism Nicolas Mayer, PWC Industry Leader Hospitality and Tourism EMEA & Managing Partner Global Center of Excellence Tourism & Hospitality.
They will discuss investment and protection for the future. They will discuss options for building resilience and sustainability through new financing mechanisms and examine the support offered by different governments in the wake of Covid-19. What are the options for partnerships with the IMF / IFC / Government and the private sector?
Register Free to be part of the virtual summit on June 10, 2020, begins 9.15am (GMT+1) HERE

REGISTER The ITIC-WTM virtual conference is FREE to attend online.
It focuses on three themes:
1. Health: dealing with Covid-19, and how we restore travellers' confidence and rebuild business.
2. Investment: understanding the financial mechanisms that allow you to survive and rebuild.
3. Future: This may not be the last crisis, how can you prepare for any future global catastrophe
This virtual summit uses the latest video technology, viewable on your browser, will bring together more than 2,000 attendees in an interactive environment.