Conference Review June 3 2020
Restructuring to Attract Sustainable Development and Customers in the New World Order

From the growth of single-use plastic to protect diners in the new post-pandemic world which undermines years of moving toward sustainability through to the vital need to increase domestic tourism in the short term ensure survival, today's conference covered a lot of ground.
Restructuring to Attract Sustainable Investment and Customers in the New World Order on June 3 brought together a heavyweight group of speakers and guests for this virtual conference organised by ATM in partnership with ITIC. Delegates who logged on learned:
Domestic tourism is a key to survival – but some destinations will struggle
Travel will become a luxury and visitors will need 'hand holding'
Green corridors and Coronavirus Free Zones will exist for countries that have the virus controlled (even Greece and the GCC)
Some countries, like Jordan, have designated 'green' areas, free of virus which will welcome visitors from green countries.
In the UAE Dubai is focused on safety and telling fans #tilwemeetagain
Training will be revolutionised and must be undertaken internationally
Tech could replace passports
Digitally aware generation Z need attention
People want to travel, they are claustrophobic but they will not want to go and sit on a beach
And how online business relationships may actually increase the need for international travel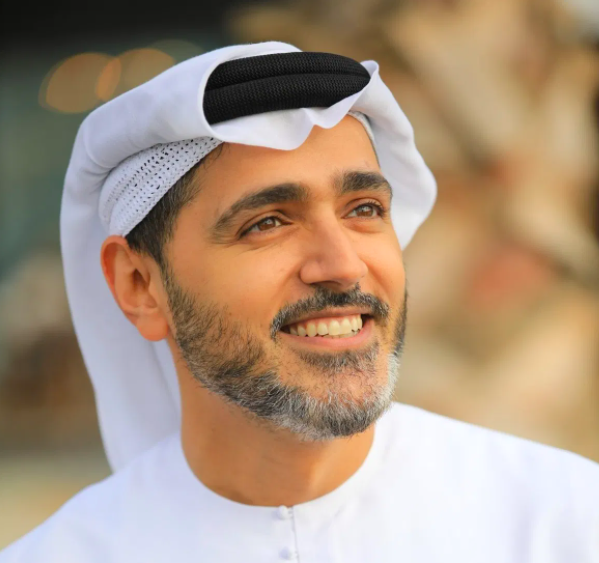 Dubai is the main tourist destination in the Middle East and it has moved quickly to secure its population and plan, said HE Issam Kazim the CEO of Dubai Corporation for Tourism and Commerce Marketing (DCTCM).
The city was pushing to secure its position as the number four destination in the world after huge growth in 2019. "In January and February this year we were 4 per cent up and we were underway to break records," he said. He explained that the emirate had launched its #tilwemeetagain campaign.
"We have got safety under control and our message to Dubai fans is we're all in this together – we're still here and we welcome you in the future," he said.
But he had a warning and recognition that the world had changed: "Travel will be a much bigger luxury and we need to make it even easier for people. We must hold them by the hand, do not forget safety and to work with all partners."
Gerald Lawless said: "Our industry will bounce back…I feel that this is an opportunity, how we relaunch and how we reboot. We should take the environmental issues along with us.. we do a lot for social sustainability. Bad things happen when you don't have tourism."
Mr Lawless is a WTTC Ambassador, Former Chairman of WTTC, Former President & Group CEO of Jumeirah Group and director of the conference organiser ITIC.
He was speaking during the introduction alongside Dr Taleb Rifai. The word 'trust' was repeatedly used as the conference debated the path to recovery of the travel & tourism sector and it was not just the need to instil it in travellers: 'investment is the ultimate expression of trust," Dr Taleb Rifai, had set the tone during the introduction.
He also urged Saudi Arabia to take a leadership role in the disrupted world during the G20 summit later this year because the Arab League African Union and EU are in disarray and this is "a new world order" in a vacuum.
The former Secretary General of the UN WTO described as the 'godfather of tourism' by delegate HE Saleh Mohamed Al Geziry, Director General of Ajman Tourism Development Department (ATDD) in Ajman, UAE.
HE Al Geziry, who described his emirate as maybe the smallest 'but with a big heart' urged delegates to the virtual summit to search for the positives despite a largely 'negative media'. He talked authoritatively about the opportunities that have arisen and how technology can assist pointing out that physical signatures are no longer necessary to carry out transactions, so even something like a passport could be digitised.
"This crisis has opened our eyes to what we take for granted – we must consider how can we adapt?"
The summit was smoothly moderated by BBC producer Rajan Datar who tackled the opportunities that the pandemic has brought and guest Nicholas Mayer partner at PWC Middle East focused on digital and young travellers as somewhere the sector must address.
"Generation Z are a digital generation and that's how they interact – not homogeneous, but they are a generation that needs to engage. They will travel again."
Young, digitally aware young people are a recognised group to work with in Saudi Arabia where domestic tourism is a key pillar of the nation's future growth plan and it had made huge investment in increasing tourism in the months before Covid-19.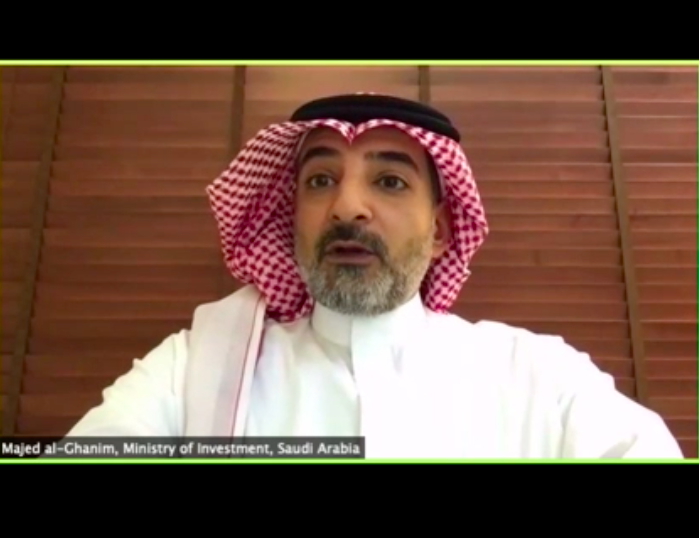 Majid al-Ghanim, is Managing Director of Tourism & Quality of Life at the Saudi Arabia General Investment Authority (SAGIA). "We believe that things will be recovered more quickly than it looked at the start of the pandemic," he said.
He complemented his neighbouring destinations like the UAE and Oman and recognised that while they may compete for investment, all of them must move forward together.
"Our main objective is to capture the current spend normally outside of the country..but we have had big interest from investors during the lockdown period."
The emirate of Sharjah has lived in the shadow of its glamorous neighbour Dubai for decades, but it is successfully building its own tourist image and that will continue said HE Khalid Jasim al-Midfa, who heads the Sharjah Commerce and Tourism Authority (SCTDA).
"It was unknown but we try to be different, we are focused on eco-tourism for example. We have archaeology – for example you can follow the history of man. To move forward the public and private sector must work together.
"We haven't seen the closure of many hotels in Sharjah. The government has subsidised companies to help them survive." And while he was supportive of boosting domestic tourism in the short term, he said: "Nothing can replace travel. It ill go back."
Ben Lock offered an insight into the what destinations must offer travellers. He over sees Edelman UK's International Affairs practice which provides strategic communications consultancy to clients.
"Increasingly travellers are asking 'Tell me why your country is relevant?' – they are aspirational they want to visit somewhere that allows them to be the best version of themselves, that's been exacerbated by Covid" said Mr Lock.
"People are claustrophobic but they will not want to go and sit on a beach (with people they've been in lockdown with)."
And he reminded everyone looking to move forward that the world really has changed and staff who may have been viewed as unimportant have proven how vital they are in this new reality. Customers will want destination chiefs to prove they are not only safe, but they care about their employees, especially those who have worked, at risk to their health during the pandemic.
"Shelf stocker was seen as a derogatory term, now these people are seen as heroes," he said. "People who put food on the table, people who get them from A to B. Now people will demand that the people who look after them and people like them are well looked after."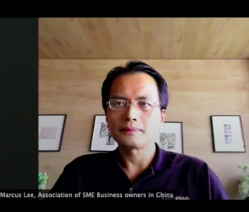 There was a huge boost to the optimism of Middle East travel operators when Dr Marcus Lee, Chairman of Association of SME Business owners in China revealed the 'confidence is back'.
He said China is changing and moving away from large group travel to FIT (fully independent travellers). "From mass to small, from coach to car, from packed trip to customised trip," said Dr Lee.
"People want to go to countries they can trust, and they need to be more 'China ready'. Travellers are getting more sophisticated in what they want right now." He said neighbouring countries were already the target when eight Chinese airlines begin operating this month but the country's travellers are 'watchful' of the Middle East.
Professor Dimitrios Buhalis is the Director of the eTourism Lab and Deputy Director of the International Centre for Tourism & Hospitality Research. He's been advising on ending lockdown how to do it and when.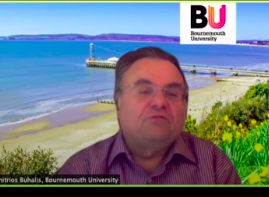 "It's different strategies depending on where they are and their clientele," he said. He agreed that domestic tourism was an ideal focus to aid the survival of tourism sectors. "That's fine for some countries China, US, Brazil or UK, but if you've got a lot of islands like Greek islands or a lot of places that are quite small like the Seychelles, they will find it much more difficult to deal with domestic tourism."
He was also asked about the return of business travel with so many observers suggesting the growth of digital has changed the way people view it. Prof Buhalis rejected that viewpoint: "Businesses have learned to operate in the digital world but it will not stop people travelling. If anything it will increase travel you can connect with more people and the first thing you want to do is get together, have a drink…meet…plan our next project on a napkin."
Moderator Datar challenged him over whether the boss would pay and the professor was in doubt, he would: "If we add value, the boss will pay. The boss will be more concerned about the health and safety of his employees, what insurance companies will require. We will operate in a more smart, blended way.
Agility is the takeaway, using offline and on line to co-create experiences and co-create value. That will be the key." He broke the leisure traveller market into four: "There is 25 per cent who are just away from things, the second 25 per cent lost money or income and can't travel, then. Another quarter who are the smart travellers who will wait and see. And the fourth group I call the kamikaze, they will travel anywhere."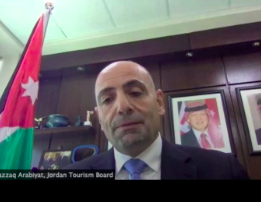 In Jordan Dr Abed Alrazzaq Arabiyat, MD of Jordan Tourist Board, was another advocate initially of domestic tourism but he explained how his country is 'enhancing content' with 360-degree virtual tours and concept vacations with a food or astronomical theme.
He said the country had used government subsidies to keep its workforce and support tourism and encouraging visitors back meant training throughout the supply chain from airports to tour guides, utilising online and certification.
He talked about 'green areas' places where Coronavirus has been successfully contained or eliminated. Petra was one area and for the future Jordan will open 'green to green areas' with countries identified as virus safe. "Then we can open without restrictions," he said.
Concluding remarks were passed back to Dr Rifai who had opened proceedings who thanked guests and praised the positive attitude and achievements already in the Middle East.
ITIC has organised its largest Virtual Conference in a week's time on Wednesday June 10 – you can attend and registration is free. The Future of Travel & Tourism, Financial Strategies for the Recovery.

REGISTER NOW FREE The ITIC-WTM virtual conference is FREE to attend online. It focuses on three themes: 1. Health: dealing with Covid-19, and how we restore travellers' confidence and rebuild business. 2. Investment: understanding the financial mechanisms that allow you to survive and rebuild. 3. Future: This may not be the last crisis, how can you prepare for any future global catastrophe This virtual summit uses the latest video technology, viewable on your browser, will bring together more than 2,000 attendees in an interactive environment.