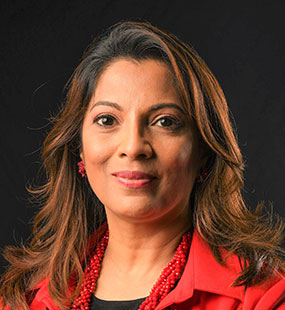 Nisha is a management consultant, corporate trainer and academic with more than 25 years of extensive management experience in the Tourism, Hospitality and Events industry. As the Founder of Elevated Consultancy and Training, Nisha provides regional and international consultancy work in the area of tourism and hospitality development in destinations. She extends marketing and management consul to destination marketing teams to develop long term strategic plans and capacity planning and development.
Nisha is a co-founder of World Women Tourism, a network intelligence platform that provides opportunities to women in tourism to connect, grow and flourish. The organization visions to impact the trajectory of women in the tourism industry through promoting diversity, knowledge sharing, building networks, capacity building and opening up business opportunities. Nisha also initiated SheInTourism, a collaborative platform that paves the pathways for Asian women in tourism to flourish and realize their potentials. She is an invited keynote speaker, thought leader and panelist for conferences and seminars in internationally.
Nisha is also a qualified corporate trainer and professional coach and has been bestowed with several awards, including the Outstanding Tourism Trainer 2010 accolade by Workforce Development Authority (WDA) of Singapore. She is a passionate academic and lecturers at several higher education as well as a curriculum developer for academic and professional skills-based programs. She has completed her Ph.D. in the area of tourism education and her research interests are in the areas of women in tourism, tourism branding and marketing, tourism education, halal tourism and sustainable tourism.