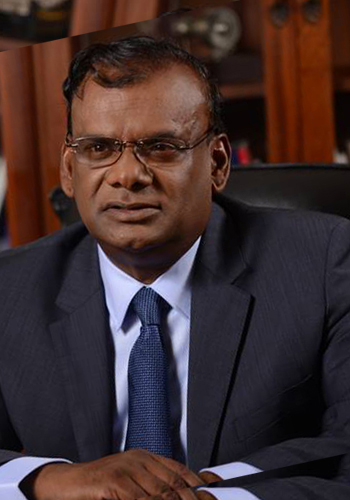 Rama Sithanen's professional career of almost 40 years is split among public sector, private sector and international consultancy and advisory work. He has held senior positions in the private sector as an economist, a partner in a consulting firm and a group strategist in a large conglomerate in Mauritius.
He was Minister of Finance between 1991 and 1995 and was instrumental in shaping policies to diversify the economy and laid the foundation for the emergence of Mauritius as an international financial centre.
He has acted as an international consultant and an adviser, working in Africa and the Indian Ocean, advising Governments and public sector bodies on public policies.
He was Deputy Prime Minister and Minister of Finance between 2005 and 2010. He introduced bold institutional, policy and fiscal reforms that turned around the economy and moved Mauritius from dependence on trade preferences to global competitiveness.
He worked as Director of Strategy at the African Development Bank in Tunis, Tunisia in 2011.
Since 2011, he is Chairman and Director of International Financial Services, one of the largest management companies in Mauritius, engaged in providing fund administration services for capital market and private equity/venture capital funds to global corporates and institutions.
He was Chairman of the Rwanda Development Board between 2013 and 2017.
He was adviser to the Government of Rwanda and tax, competitiveness and financial services issues between 2013 and 2015.
He is Chairperson of 4 Sights, a fourth industrial revolution technology company that is listed on the Johannesburg Stock Exchange and operates in many countries.
He also chairs Thomas Cook (Mauritius), a company engaged in foreign exchange transactions and tourism –related activities.
He also sits on other corporate boards.
He was chosen by the Switzerland-based World Economic Forum in 1994, as one of the 100 Global Leaders for Tomorrow for contribution in both the public and the private sectors at the age of 40.
He was bestowed with the highest mark of distinction of Grand Commander of the Star and Key (GCSK) in 2009 for contribution in the economic and political fields.
He speaks, reads, writes and understands English and French.
Dr Sithanen holds a BSc Economics (with First Class Honours), an MSc Economics (with a Mark of Distinction) from the London School of Economics and Political Science and a PhD in Political Science from Brunel University, UK.