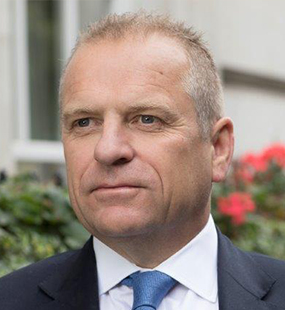 Vincent is Executive Vice President & President Europe, Middle East & Africa for Hilton. Based in London, Vincent is responsible for 549 operating hotels and a further 371 in the development pipeline, across thirteen brands and nearly 70 countries and territories.
Since joining the company in 2007, Vincent has overseen the opening of more than 350 hotels and spearheaded Hilton's growing presence in the region, with the introduction of new brands such as LXR Hotels & Resorts, Canopy by Hilton and Curio – A Collection by Hilton.
A 32-year veteran of the leisure and travel industry, Vincent was previously CEO of Opodo, the pan-European online travel agency. He has extensive international experience and has also worked in North America and Japan. He spent the early part of his career in International Banking with HSBC.
He sits on Hilton's global executive committee, represents the company as co-Chair of the UK Tourism Council and a member of the UK Cultural Renewal Taskforce. Vincent is also a non-executive director at iconic London retailer Fortnum & Mason.
Vincent is also Chairman of Trustees for the DM Thomas Foundation for Young People, a Trustee of Jigsaw School, an independent school for children on the autistic spectrum and a Trustee of Amber Trust – a Charity for Music for blind children.
In January 2015 he received an OBE for his services to the hospitality and tourism industries, having been recognized in the New Year Honours List.