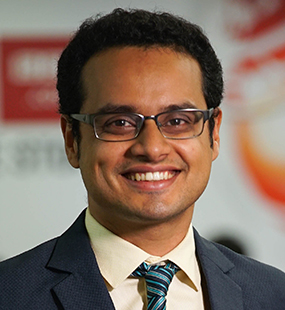 Sameer Hashmi is the BBC's Middle East Business Correspondent based in Dubai. He reports on business, geopolitics & technology from the Gulf region. Sameer took up the role in November 2019 and since then he has reported on a range of stories from the impact Covid-19 on the region to the historic UAE-Israel peace deal and the escalating tension between Iran and its neighbours. Sameer was one of the first international correspondents to interview Anwar Gargash, the UAE's minister of state for foreign affairs after the UAE-Israel peace deal was announced. He also presents Talking Business – BBC's flagship business program from Dubai.
Prior to taking up the role in Dubai, Sameer was the BBC's India Business correspondent based in Mumbai for nearly 8 years. During his stint – he fronted all major business & economic stories from the region, and also reported on key political, social and sport stories. He has covered the Indian national elections in 2009, 2014 & 2019, the Mumbai bomb blast in 2011 & the earthquake in Indonesia in 2018. He has interviewed CEOs of top global companies, ministers, policy-makers & actors including Richard Branson, Nikki Haley, Raghuram Rajan & Priyanka Chopra.
He was also the presenter of India's Game-Changers series, which aired on the BBC in 2018. The show won the Asian Academy Creative Award for the best current affairs programme about India in 2019. He was also the Relief Presenter of India Business Report – a weekly 30 minute show that used to air on BBC World News until 2016.
Sameer joined the BBC in 2012, prior to which he worked with the Times of India Group in several positions.