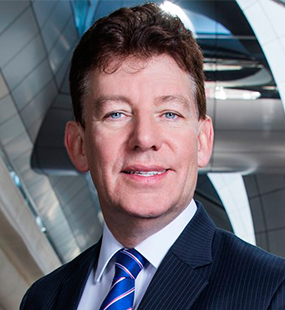 Paul Griffiths is Chief Executive Officer of Dubai Airports, with the responsibility for the operation and development of Dubai International (DXB) – the world's busiest airport for international passengers, as well as Dubai World Central (DWC).
Paul joined Dubai Airports as its first CEO in October 2007. Exactly a year later, on 14 October, he orchestrated the flawless launch of Terminal 3 at Dubai International and on 27 June 2010 successfully opened the Emirate's second airport, Dubai World Central (DWC). He achieved another milestone in Dubai's aviation history on 2 January 2013 with the similarly flawless opening of Concourse A, the world's first purpose-built A380 facility and again with Concourse D on February 24, 2016. Paul also oversaw the historic opening of the passenger terminal at DWC on 27 October 2013. On December 20, 2018, Paul joined Dubai Airports' Chairman HH Sheikh Ahmed bin Saeed Al Maktoum in welcoming Dubai International's billionth passenger.
Prior to moving to Dubai, Paul was Managing Director of London's Gatwick Airport, the second largest airport in the UK. Before joining airport operator BAA in 2004, he spent 14 years with the Virgin Group, working closely with Sir Richard Branson as a Board Director of the Virgin Travel Group, embracing the commercial activities of both Virgin Atlantic Airways and Virgin Trains.