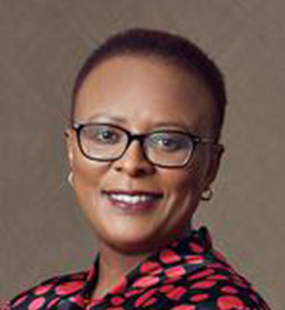 Nomasonto Ndlovu is South African Tourism's (SA Tourism) Chief Operations Officer. She was recently employed by Transnet in the capacity of Executive Manager: Tourism, Heritage and Hospitality, a role she has occupied since November 2020 where she was responsible for heading up the newly established Tourism, Heritage & Hospitality Business unit. She left Transnet at the end of June 2022.
Prior to joining Transnet, Nomasonto was at the helm of the Limpopo Tourism Agency in the position of Chief Executive Officer. She has held various other leadership positions in the tourism sector including her role as Global Manager: Business Tourism when she was previously at SA Tourism between 2008 and 2012, before joining the City of Tshwane as Strategic Executive Director Communications, Marketing & Events.
She is a seasoned Marketing and Tourism Expert with a diverse experience gained from both private and public sector organisations including Unilever, Standard Bank, Kwa Zulu-Natal Tourism Authority. She has gained extensive experience in Marketing Operations, Brand Management, Communications, Stakeholder Management and Media Relations. A well-respected public speaker, content creator and opinion leader in the tourism industry, Nomasonto also mentors young upcoming tourism professionals.