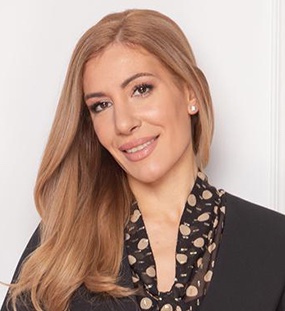 Nikolina Angelkova was born on the 30 November 1979. She is Harvard business school alumni, graduated form the Leadership development program. Master in Law from the University for National and World economy (UNWE), Sofia graduated with an award for excellent success; postgraduate qualification for company management to the Post qualification institute to the UNWE. She has specialized financial management of the EU structural funds, regional policy and government to the Institute of Public Administration in Maastricht and the Regional Institute for Public Administration in Nantes, France.
2002-2006 she was a President of the Association of legal development and legal adviser in the parliamentarian committee of Regional development.2005-2007 she was a blue book trainee in DG" Environment", European Commission and advisor of the BG leader in the EPP group, European Parliament, working in the field of environment, transport and regional development.2005-2010 she was an owner of Nikolova and partners consult LTD; CEO of Hercesa Bulgaria LTD and CEO of Helector Bulgaria LTD working in the field of transport and environment infrastructure, real estate investments; mergers and acquisitions.2008 founded "Friends of sport" Foundation representing Real Madrid Foundation social school to integrate children in needs through sport.
Currently is a honorary President of the foundation. 2010-2011 she is leading the Control, communication and coordination department to the Minister of regional development and public works.2011 she is Member of the management board of the Road Infrastructure Agency and till 2013 Deputy Minister of Regional Development and Public Works responsible for European and international policy, European territorial cooperation and regional planning; contact point for the EU Danube strategy. 2013-2014 she was EU policy advisor to the President of the Republic-Rosen Plevneliev. In March 2014 she was elected Young Global Leader of WEF and currently is a WEF alumni.2014 she became the first woman Minister of Transport, information technology and communication in the caretaker BG Government.
In November 2014-2017 she became the first Minister of tourism in the regular PP GERB BG Government founding the Ministry of tourism as separate state administration. March 2017 was elected member of parliament in the 44th National Assembly leading the Sofia region election list of PP GERB. May 2017- 2020 became Minister of tourism in the PP GERB BG National Government. In 2018 she was awarded by the Italian President in the "Stella d'Italia award".
Member of the PP GERB and since 2019 and currently party political coordinator in Sofia region. Currently member of the parliament from PP GERB in the National Assembly, member of the economy and tourism policy and Chairwomen of the Parliamentarian friendship Committee Bulgaria-USA. Oct.2020 member of the Women in International security organization.
Holds lots of prestigious awards in the fields working and have participated and organized many international and internal events.
Speaking English, Spanish and Italian and having working knowledge of French and Russian