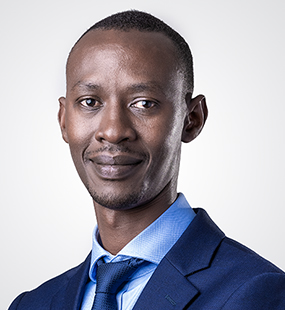 Nick is the Chief Executive Officer of Rwanda Finance Ltd. Before joining Rwanda Finance, Nick was the Managing Partner of Karisimbi Business Partners from 2014 – Sep 2019. Nick brings extensive strategic, operating and general management experience to Rwanda Finance. He has served as Managing Partner of one of the leading Management and Strategy Consulting firms in Rwanda, CEO of the largest soy processor in Rwanda, Group Operations Officer of the largest investment company in Rwanda, CFO of the largest juice and dairy processor, and COO of one of the largest locally owned road construction companies in Rwanda. He spent three years of his early career as a Policy Analyst at the Rwandan Ministry of Finance and Economic Planning where he was responsible for implementation of the Rwandan Government's Fiscal Decentralization Strategy.
He is specialized in supporting investment transactions, restructuring and M&A operations, mainly in Rwanda. He advised several corporate clients as well as government institutions. Nick brings extensive strategic, operating and general management experience working as both policy and executive management in various multi-national corporations for over 15 years.
Nick is currently an advisory board member to the Tony Blair Institute for Global Change – Rwanda Project and serves the Board Chairman of AB Bank Rwanda and SONARWA Life Assurance, is one of the Board of Directors of Green Hills Academy.
Nick has a master's degree in Business Administration, majoring in Strategic Management from Strathmore Business School in Kenya, one of the leading Business Schools on the Continent and Bachelor of Business Administration in Finance from the National University of Rwanda as well as diploma in Fiscal Decentralization and Local Government Financial Management at Duke University's Sanford Institute of Public Policy and a diploma from the Swedish Institute Management Programme.