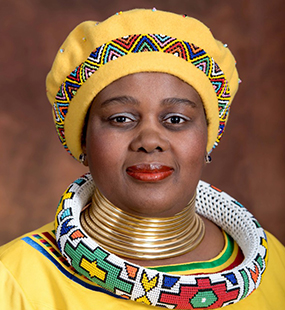 Mmamoloko "Nkhensani" Kubayi-Ngubane is Minister of Tourism, a Member of Parliament of the Republic of South Africa and a member of the National Executive Committee of the African National Congress.
Prior to her current role, Kubayi-Ngubane previously served as a Minister in three portfolios, Science and Technology, Communications, and Energy respectively. She has held several leadership roles both within the ANC and as a deployee of the ANC in various spheres of government. She holds a Bachelor of Arts Degree from the University of Johannesburg (formerly Vista University), a Postgraduate Diploma in Project Management from Damelin College, a Masters Degree in Public and Development Management from the University of the Witwatersrand and completed a Programme for Leadership Development at Harvard Business School.
Kubayi-Ngubane is outgoing member of the Global Artificial Intelligence Council established by the World Economic Forum's Centre for the Fourth Industrial Revolution. She joins other global leaders as a member of the Forum's newly established Global Future Council on Sustainable Tourism, a multi-stakeholder knowledge network tasked to advance innovative thinking for a more resilient, inclusive and sustainable future.