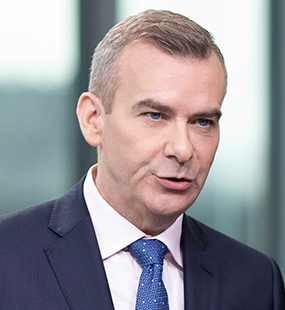 Manus Cranny is the co-anchor of Bloomberg Daybreak: Middle East & Daybreak Europe. He brings 20 years exposure to Global markets, finance and media.
His insight and knowledge built across markets from Futures & Options, Equities, Foreign exchange ,Oil & Commodities drives the Global Coverage.
Cranny has interviewed global business & political leaders Bill Gates Microsoft Co Founder, Cyril Ramaphosa President of South Africa, UBS Group CEO Sergio Ermotti, and Barclays CEO Jes Staley , a host of oil industry CEOS Total, Shell, ENI , Equinor and BP.
In Middle East Agenda moves at Speed & Manus has access to the political and business elite across the region, HE Anwar Gargash Minister Foreign Affairs, CEO Mubabala Khaldoon Al Mubarak, SABIC CEO Yousef Al-Benyan.
Manus began his career as commodity trader, honed his institutional skills at First Chicago Bank (now part of JP Morgan Chase) & Cantor Fitzgerald.
Cranny received a Bachelor of Science degree in Management from Queen's University Belfast.