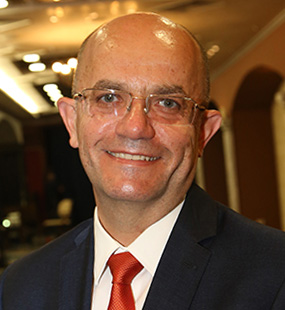 With more than 25 years of experience in tourism and travel, Lachezar Todorov started his carrier in travel management and tour operation in 1990 in Carlson Wagonlit Travel as an intern. By 1995 he became an account manager in the same company, responsible for the key accounts the company provided services to in Bulgaria. 2001 marked a serious professional change, when he joined the newly established group of companies around Terra Tour Service EOOD, which concentrate the private investment in the area of tourism and hospitality of Agrohold AD, originally as CEO of Relax Plus AD and later on as CEO of the mother company itself. In 2001 he also became the CEO of the travel agency and tour-operator of the group – Hornit OOD.
In the following years Lachezar helped concentrate the investment efforts and was instrumental for the growth of the company, which nowadays owns four hotel properties (SUNEO Helios Beach, RIU Helios Bay, ClubHotel RIU Helios Paradise and RIU Helios) along the Black Sea Coast and another two (RIU Pravets Resort and Pravets Palace) in the area of Pravets. The company currently owns over 1 700 hotel units, to which another 600 will be added in 2019, when the last two projects (Hyatt Regency Sofia and RIU Palace Sunny Beach) are expected to come into operation.
His professional experience grew with his extensive involvement in the relationship with the international hotel management companies, like RIU and Hyatt International and more recently Marriott International, Accor Group and IHG. On the tour-operating site, Lachezar is well respected due to his long and fruitful history with all tour-operators from the group of TUI, as well as other international and local ones, doing business across Europe, Russia and the CIS countries.
Although hospitality represents the most significant part of the investments of TTS EOOD, the company has also tried and been successful in other tourism related projects, like the 18-hole Peter Harradine designed Pravets Golf Course, as well as the four hunting concessions, covering some of the best areas for hunting tourism in the country. Terra Tour Service EOOD, has also involved in some real estate investment with two projects – Helios Beach Apartments in Pomorie (now successfully completed) and Pravets Residence, where the company is actively involved as a property manager of the complex, consisting of residential apartments and villas.
Lachezar is a member of the National Tourism Board of Bulgaria and one of the most respected Bulgarian professionals in investments projects and personnel management, finance and strategic planning. Popular speaker at real estate and tourism investment forums in the country and abroad.
Lachezar graduated the Moscow State Institute for International Relations in 1991 with Master's degree in international relations. Married, with four children and resides in Sofia.