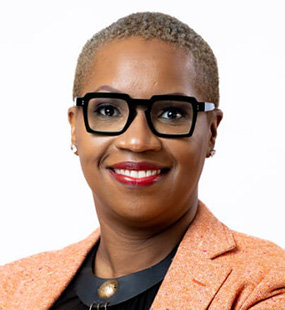 Karen Matsiko is a skilled and savvy banking maven with a sterling reputation for achieving impeccable results. Having successfully grown businesses revenue at Absa Africa by over 20%, Karen maintains the perfect balance between client-focused executive and innovative leadership.
With over 15 years of experience in finance including a tenure on Wall Street managing high-stake portfolios, Karen brings her extensive background to the Trade and Working Capital sectors, a growing need in Africa today.
Karen currently serves as the Head of Working Capital Product Management at Absa Capital, a Pan African Bank headquartered in South Africa. In her current role, she designs and implements the Africa Working Capital sectoral value propositions and customer value propositions to obtain growth and primacy by responsively adapting to the ever-changing regional needs of clients.
Outside of work, Karen serves on the board of Save Our Watoto, an organization that advocates for children's rights. She is also the Board Pillar lead of the Young Leaders Connect, an initiative of the IWFSA Leadership, and actively volunteers as a youth mentor.
Karen maintains an active presence in several prominent committees, including serving as Vice-Chair of the Employment Equity Forum at Absa, Banking on Women (Absa Africa Group), Elevate New York (Formerly 85 Broads), New York Women's Foundation, and African Business Networking Group.
Karen holds a BBA degree Magna Cum Laude from Berkeley College and an MBA from Cornell University with a concentration in Emerging Markets. She also has taken several leadership programs, notably at IMD, Switzerland, and Duke University.