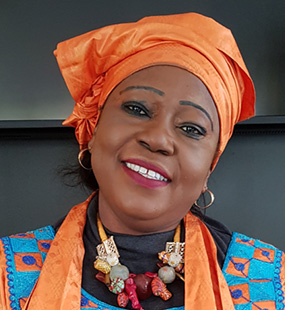 Prior to her recent appointment as Minister of Tourism and Cultural Affairs by the New Administration of H. E. Julius Maada Bio, Hon. Memunatu B.Pratt served in various capacities in the field of education, peace and security wherein she excelled and received several honours, awards and recognition for her work which prompted the President to appoint her to revive and reposition the auspicious but fledgling tourism industry in Sierra Leone.
Hon. Pratt pioneered the establishment of the Department of Peace and Conflict Studies at Fourah Bay College, University of Sierra Leone, where she served as a Senior Lecturer and Head of the Department for close to 24 years. She was also a Visiting Professor to Hiroshima University and Hiroshima Peace builder's Centre in Japan for over 7 years. She also served as a Visiting Professor and resource person to several universities in Africa, Asia, Europe and the United States. She has over 15 years' experience in Peace, Conflict Gender, Security and International Studies. She has a number of publications to her name and she is a recipient of the National Prestigious Insignia Award as Grand Officer of the Order of the Rokel (GOOR) from the Republic of Sierra Leone.
As Minister of Tourism and Cultural Affairs, Madam Memunatu Pratt has been considered, by many, as one of best performing Ministers, an award which she won at the 2018 Annual Diaspora Focus Award. She has and continues to spearhead several initiatives which have contributed to solving the perennial challenges of the tourism sector such as the high cost of travelling to Sierra Leone and the difficulty in accessing the destination. She also pioneered the establishment of the Entertainment Foundation to unite, consolidate the gains of the industry and ultimately maximizes its benefits.
Recognizing the negative perception of Sierra Leone as a destination, she managed to secure the support of government to embark on a robust and aggressive marketing campaign which created considerable awareness of the immense potentials, natural beauty, stability and peace that prevails in the country.
Consequently, in an effort to promote domestic tourism and opening up of the vast prime coastal areas of the country, she spearheaded, in collaboration with the Ministry of Agriculture the organisation of the first ever Bonthe District Agro-Tourism Exhibition which attracted hundreds of people from across the country including H. E. the President, Julius Maada Bio.
During her few months in office (2018), the tourism industry experienced the highest growth rate in leisure visitors since the aftermath of the war. Today, her unique leadership style and competency has rendered Sierra Leone to be quoted by the most popular online publisher, ETurbo News as the must-visit emerging tourist destination.
Stakeholders in the tourism and cultural sectors are very optimistic that during her tenure as Minister of Tourism, Sierra Leone's tourism industry will experience a positive transformation to become West Africa's most preferred tourist destination.