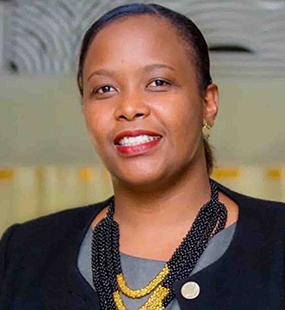 Clare Akamanzi is CEO of the Rwanda Development Board (RDB) and Member of the Cabinet of Rwanda. Prior to this role, she served as Head of Strategy and Policy for H.E President Paul Kagame and for over 7 years as COO of the RDB.
Ms. Akamanzi has also previously served as a Commercial Diplomat in London and a Trade Negotiator in Geneva at the World Trade Organization.
She is an International Trade and Investment Lawyer, who has lived, schooled and worked in 7 countries in 3 continents but nothing beats the privilege of being part of rebuilding her nation.
Ms Akamanzi is a Harvard Kennedy School MPA alum, where she was the recipient of the Lucius N. Littaeur Fellows Award; the Raymond & Josephine Vernon Award, both for academic excellence and distinguished contribution to HKS community, as well as the Robert F. Kennedy Award for Excellence in Public Service. She also holds an LLM (International Trade and Investment) with distinction from the University of Pretoria, South Africa, and LLM (Hons) from Makerere University, Uganda.