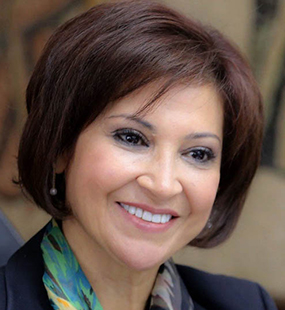 Her Excellency Mrs. Majd Mohammad Shweikeh is the Minister of Tourism & Antiquities since Jan 2019till present.

Before that, she assumed several ministerial positions since 2015; Minister of ICT; minister of Public Sector Development and State Minister for institutional Public Sector Enhancement.

Excellency Shweikeh was the Founder of Masharek 360 solutions Middle East for High Performance Leadership between 2012-2015; and before that from 2010-2012, worked as a Group CEO of VITEL Middle East and Africa Limited leading 4 different Telecom companies, in GSM, Wireless Local Loop, Fiber Optic and CDMA in Jordan, Iraq and Africa. Between 2000 and 2010 Excellency Shweikeh worked in Orange Group, as a Vice president of Jordan telecom Group and CEO of Orange Mobile from 2006-2010. When she was named as the first female CEO of a GSM operator in the world. And Chief financial officer since 2000-2006 for MobileCom (currently branded Orange Mobile).

Excellency Shweikeh joined many boards as a Board Member in different organizations locally and internationally throughout her journey.