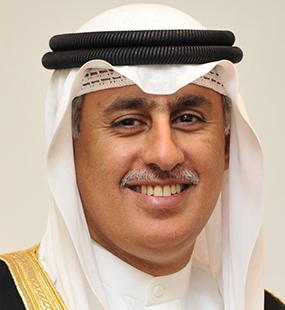 H.E. Zayed bin Rashid Alzayani was appointed Minister of Industry, Commerce and Tourism in December 2014.
Prior to his appointment, Alzayani led his family business as the chairman of Alzayani Investments, Euro Motors, Zayani Motors, Zayani Leasing, Zayani Properties, Alzayani Industries and Orient Motors.
In addition, he also served as the Managing Director of First Motors and Chairman of the Bahrain International Circuit (BIC) until 2016.
Alzayani graduated from Boston University, where he received his MBA in Finance and was a former Board Member of Boston University International Advisory Board.
Alzayani currently serves as the Chairman of Bahrain Tourism and Exhibitions Authority and was recently appointed Chairman of Gulf Air Board in April 2017.
His Excellency sits on the boards of the Economic Development Board (EDB), Gulf Aviation Academy, Bahrain Airport Company and the Business Family Network as well as acting as the Minister in charge of Bahrain Bourse from 2016. He is also a member of the International Institute for Strategic Studies (IISS).