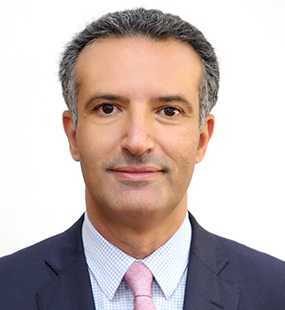 H.E. Nayef Hmeidi Al-Fayez has served as Minister of Tourism and Antiquities, and Minster of Environment of Jordan several times.He has recently been appointed as Minister of Tourism and Antiquities on 12/10/2020.
After obtaining a bachelor's and master's degrees in political science and international relations from Brigham Young University in the United States. Al Fayez started his career as assistant chief of Royal Protocol at the Royal Hashemite Court, and worked closely to His late Majesty King Hussein bin Talal and His Majesty King Abdullah II and Her Majesty Queen Rania Al Abdullah.
In 2006 he moved to work in advanced positions in the Jordanian government, especially in the field of tourism development, and headed several leading institutions and companies specialized in the field of tourism, environment, and development such as the Jordan Tourism Board, the National Company for Tourism Development, the Royal Academy of Culinary Arts – Les Roches, the Jordan Heritage Revival Company, the Jordan Oil Terminals Company "Jotic", the National Microfinance Bank, and the Jordanian Microfinance National Network "Tanmia".
He also participated in the membership of several bodies and committees such as the Baptism Site board of trustees and the higher steering committee of Arab Gulf Program for Development (AGFUND).
He has participated and represented Jordan in many conferences and international events as an expert on Tourism, Environment, and sustainable development.
Al Fayez holds several Orders of Merit and Medals on local and international levels.