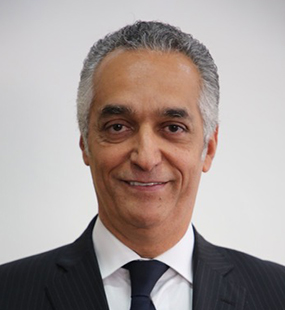 H.E. Makram Mustafa A. Queisi assumed the role of Minister of Tourism and Antiquities in Jordan in 2022. His previous ministerial role was as Minister of Youth in 2018.
He is the holder of B.A. in Computer Science (Jordan) and Master of Arts in Diplomatic Studies (U.K).
H.E. Queisi is an experienced diplomat having represented the Hashemite Kingdom of Jordan at Ambassadorial level in a number of countries including France, Portugal, Slovakia, Austria, Monaco and The Vatican. Furthermore, he acted as Jordan's permanent representative at various international organizations including UNESCO, CTBTO, IAEA, UNIDO, UNODC, UNOV, OSCE.
H.E. Queisi's diplomatic acumen has been recognized and appreciated by a number Heads of States through their bestowment of recognition medals such as Grand Golden Badge of Honor of Austria, Swedish Grand Officer Medal as well as numerous recognition medals from Jordan, Spain, Norway, Italy, the Netherlands, and Ukraine.