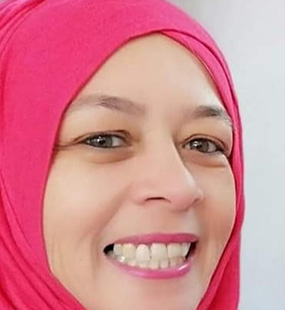 Travel Designer, Tourist Guide and Owner of Halaal Hopper, Mrs. Fayrouz Holliday-October took a leap of re-evaluating her experience and position within the Tourism Industry in South Africa. With the 23 years experience in the local and international tourism sector and as a Muslim woman and a Muslim woman traveller she realised that there was a great need to cater to the needs Muslim Traveller with halaal offerings. From food, accommodation and Muslim Tourist attractions the passion grew to join the already main stream of other Muslim operators to give further quality service and options to the Muslim Traveller.
Fayrouz comes with, a wealth knowledge of the Middle East, being a Dubai Tourism Top Graduate from the Government of Dubai Tourism & Commerce Marketing (DTCM) in 2001. No local formal qualification but still continue to study through the University of Life. She is the Executive member of Women in Tourism Western Cape and Interim Chairlady of Halaal Tourism Association of South Africa. She runs community projects with other women focusing on entrepreneurship for kids. Fayrouz is also a mentee of Table Mountain Aerial Cableway- making Table Mountain accessible for disadvantaged local communities.
My Mat Matters is a prayer mat project which was born in 2020, to alleviate unemployment of local community ladies since there was no longer tourist coming to South Africa during 2020 because of COVID19 and many other ongoing projects in up skilling, training and development of women and youth.
The list is quite long, but a cat out of the bag.. Fayrouz was the first girl to play cricket for Western Province in a boys team in 1979 and is also a cricket coach Other than that Fayrouz love people, places, spaces and food and believes not to do different things but to do it differently with collaboration and that whatever is meant for you will come your way. GOD WILLING (IN SHA ALLAH)