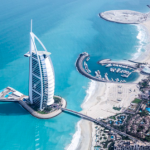 Industry News: 21st May 2020
About 30 per cent of jobs in Dubai's hotel industry are likely to be lost over the summer until demand recovers from the pandemic, according to research firm STR.
In an updated Bloomberg report today (May 21, 2020) the news outlet said more than a third of the city's 120,000 hotel rooms will 'probably remain closed through the typically slow summer months'.
Bloomberg spoke with Philip Wooller, Middle East and Africa director at STR Global. The industry employs about 40,000 people, he estimated.
The job-loss estimate is a "minimum," Wooller said. "Otherwise you're asking the owners to reach into their own pockets and, while some might do that, others won't be able to afford it."
Almost 17 million tourists visited the city last year, contributing about 12 per cent to economic output.
Hotel occupancy slumped to 23 per cent since the pandemic hit from about 80 per cent one of the highest in the world, according to STR. Average occupancy globally is around 20 per cent and has been mostly held up by demand for accommodation for medical staff and quarantines.
"Dubai's Hospitality businesses are resuming operations based on issued government reopening guidelines during this pandemic," the emirate's media office said in a tweet. "Dubai's hotel sector is healthy and this prudent approach prepares the industry for an even stronger resurgence post Covid."
Occupancy is expected to recover to between 50 and 60 per cent by September as demand improves and hotels reopen, Wooller said. Some operators, especially beach hotels, may see demand from residents unable to travel abroad seeking local vacations instead.
Bloomberg reported that closures have hit most hotels in the rest of the Gulf, with nearly 43 per cent of rooms in the Omani capital being shuttered. In Mecca, more than 80 per cent of rooms were closed as the city that hosts Islam's holiest site, which had the worst outbreak in Saudi Arabia.
Some hotel owners in Qatar are benefiting from the government leasing nearly 30 properties. Qatar, which is set to host the soccer World Cup in 2022, is still benefiting from demand as infrastructure preparation continues. In Dubai's Emirati neighbour, Abu Dhabi says just 17 per cent of the city's 29,000 rooms closed. Occupancy is hovering around 50 per cent as the government leases rooms for essential staff and for quarantines, according to STR Global.
READ FULL UPDATED BLOOMBERG NEWS REPORT HERE
***

***