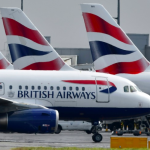 One of the world's biggest airlines BA revealed plans to axe up to 12,000 of its staff because of the global collapse in air travel in the face of the coronavirus pandemic.
The privately owned UK operator's plan is understood to include a quarter of its pilots as the company reacts to the severe downturn in flights.
The airline's chief executive, Alex Cruz, told BA's 42,000 staff on Tuesday night that the company "must act decisively now to ensure that British Airways has a strong future" and that means more than one in four jobs must be cut.
Cruz said the UK's flag carrier airline, which has placed 22,600 people on the government's furlough scheme, "cannot expect the taxpayer to offset salaries indefinitely".
"Yesterday, British Airways flew just a handful of aircraft out of Heathrow. On a normal day we would fly more than 300. What we are facing as an airline, like so many other businesses up and down the country, is that there is no 'normal' any longer," Cruz told staff in a letter
"We are a strong, well-managed business that has faced into, and overcome, many crises in our hundred-year history. We must overcome this crisis ourselves, too."
THE FUTURE OF TRAVEL & TOURISM VIRTUAL CONFERENCE June 10, 2020 DETAILS & REGISTRATION