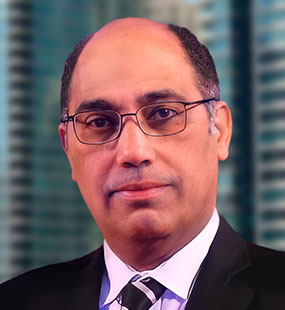 He has 30 years of experience in various disciplines such as: media, advertising and marketing, during which he was included in many positions, ending in senior leadership positions in the last 15 years, in addition to specialized study. During these long years, he was able to build and strengthen a strong network of working relationships with various stakeholders in the media, advertising and marketing industry inside Egypt, the Arab region and internationally.
During the past 24 years, he worked with the largest international companies specialized in the fields of media and advertising, such as Horizon Advertising Company, the British Lowe Advertising Company, Lowe Worldwide, Mindshare worldwide and finally DDB Worldwide. During these years he included in different positions until he reached senior management positions since 2003 and Vice Chairman of the Board of Directors of one of the largest marketing groups since 2014.
During his work with these companies, he had the opportunity to work with major international brands such as Vodafone, Coca-Cola, Unilever, HSBC, Samsung, in addition to major local and regional advertisers, in addition to his responsibility for the promotional campaigns of the Ministry of Tourism in the Arab and European markets.
Mr. Amr El-Kady has been a member of the Committee of Experts related to Tourism Promotion in the Ministry of Tourism and Antiquities since 2020, the committee formed by the ministerial decree to be responsible for the international and internal tourism promotion file, in addition to his membership in the committee for preparing the marketing and media strategy for tourism in Egypt which was implemented by the Canadian-British alliance and which was completed during the month of August.