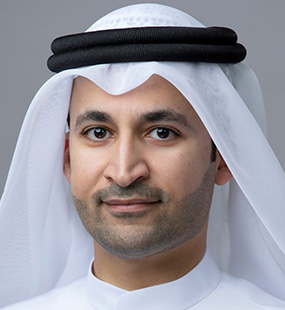 An experienced architect, urban planning expert and an inspiring young Emirati leader focused on promoting a culture of entrepreneurship, innovation and facilitating strategic foreign investments, Arch. Abdulla Al Abdouli is the Chief Executive Officer of Marjan, the master-developer of freehold properties in Ras Al Khaimah.
Al Abdouli has more than 10 years' experience in the Construction Industry in both Public & private Sectors driving strategic growth initiatives of the emirate of Ras Al Khaimah, with a focus on developing world-class master-planned communities & infrastructure projects in Ras Al Khaimah that will attract foreign investment and position the emirate as a regional investment and tourism hub. His key Highlights were identifying new opportunities for real estate growth, expanding partnerships with an access to global markets. Arch. Abdulla is credited with several innovative initiatives that have enhanced the reputation of Ras Al Khaimah globally helping create a strong framework that enhances investor confidence foreign direct investment.
Arch. Adbulla leads number of successful projects, he is the CEO for Marjan, Managing Director for RAK Dragging, also the Chairman of RAK AMI Hotels. And he is a board member and managing director of Saraya.
Drawing on his competencies in real estate development and urban master-planning, he was Director of Town Planning and Survey Administration and Director of Project Management Office at RAK Municipality. Previously, he was also a Board Member of the RAK International Airport Authority and RAK Sewerage Authority.
Abdulla holds a Masters in Regional & Urban Planning from the Paris Sorbonne University in Abu Dhabi and graduated from the American University of Sharjah. He also recently earned a certificate in Real Estate Investment Strategies from Harvard University.