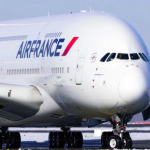 French flag carrier Air France has announced on Wednesday afternoon that it will retire its nine strong Airbus A380 fleet with immediate effect.
The airline's fleet of superjumbos was initially set to be retired in 2022, but in light of the Coronavirus, the Air France-KLM Group has decided that it will bring this forward.
The company owns five of its A380s and another four on lease. Most of the fleet has been grounded since March, as the worldwide pandemic brought air travel to a dramatic stop.
Air France said in a statement: "The phase-out of Airbus A380 fleet fits in the Air France-KLM Group fleet simplification strategy of making the fleet more competitive, by continuing its transformation with more modern, high-performance aircraft with a significantly reduced environmental footprint."
The airline received its first A380 in October 2009 and it's most recent delivery was in June 2014, making the youngest aircraft in the fleet a mere six years old. Air France's Airbus A380 fleet will be replaced by smaller long-haul aircraft, including Airbus A350 and Boeing 787 Dreamliner, the carrier says.
The £164million superjumbo is close to the end of its production run after demand switched to smaller jets, and airlines including Air France have been idling the double-decker temporarily because of the coronavirus crisis.
Air France announced a fresh 500million euro ($548.50million, £449million) writedown as it permanently retires its nine jets, just over a decade after becoming the first European airline to operate them.
The French announcement came hours after aircraft engine maker Rolls-Royce announced 9,000 redundancies across its UK operations.
Emirates – which operates more than 100 A380s and has been one of the few airlines to adopt it – no longer wants to take all eight A380s due to the pandemic and is in talks with Airbus, industry sources said.
Bloomberg earlier reported that Emirates hoped to cancel five.
Both Emirates and Airbus said they were in regular dialogue with each other, declining further comment.
Halting Emirates deliveries could be painful for both sides, with the airline foregoing deposits and Airbus left with parts already ordered and no significant market to dispose of them.
***

***