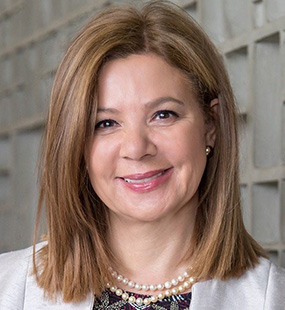 Wrenelle has over 28 years of work experience in the Aviation and Energy industries and has amassed a unique set of generalist leadership skills, She has extensive Board experience both as an Executive Director, as well as a Non-Executive Director. She served on the Comair Limited Board, a JSE listed Board for 8 years and various Sasol Limited Boards, including international Joint Venture Boards.
It was the complexity of the aviation industry which attracted Wrenelle as a young student almost 29 years ago. Her fascination with the aviation industry started in 1990 when she was doing an MBA at the School of Business, Oxford Polytechnic, in the United Kingdom.
She completed her MBA thesis entitled "The impact of deregulation on the European airline industry. She used British Airways Plc as a case study, which subsequently led to an internship at British Airways Plc, in the United Kingdom. In 2005, Wrenelle was elected to the Executive Committee of the Commercial Air Navigation Service Organisation (CANSO), an international body responsible for promoting and protecting the interests of commercial air navigation service providers, where she worked on a variety of projects intended to improve global air navigation infrastructure and customer service. She holds an MBA from Oxford Brookes University in the United Kingdom, as well as a BA (Hons) degree from the University of Cape Town.